MERCHANTS' COFFEE HOUSE
Inspiring conversations for 660 years
Meet and enjoy delicious, locally sourced food and drink in the medieval guildhall, home of York's Merchant Adventurers past and present.

Merchants' Coffee House Closed from Wednesday 4th November
Following the latest Government announcement on national restrictions, we can confirm that the Hall and Merchants' Coffee House will be closed from Wednesday 4th November. We will remain closed until Wednesday 2nd December. 
Thank you for your continued support and we look forward to welcoming you back soon. 
*Due to current restrictions, customers wishing to sit indoors must be from the same household. Up to 6 people from different households may use our outside seating area.*
We have worked hard on making sure we provide a safe experience for you and for your our staff and have put some measures in place on social distancing, safety and health & hygiene. To read these click our Customer Guidelines – Merchants' Coffee House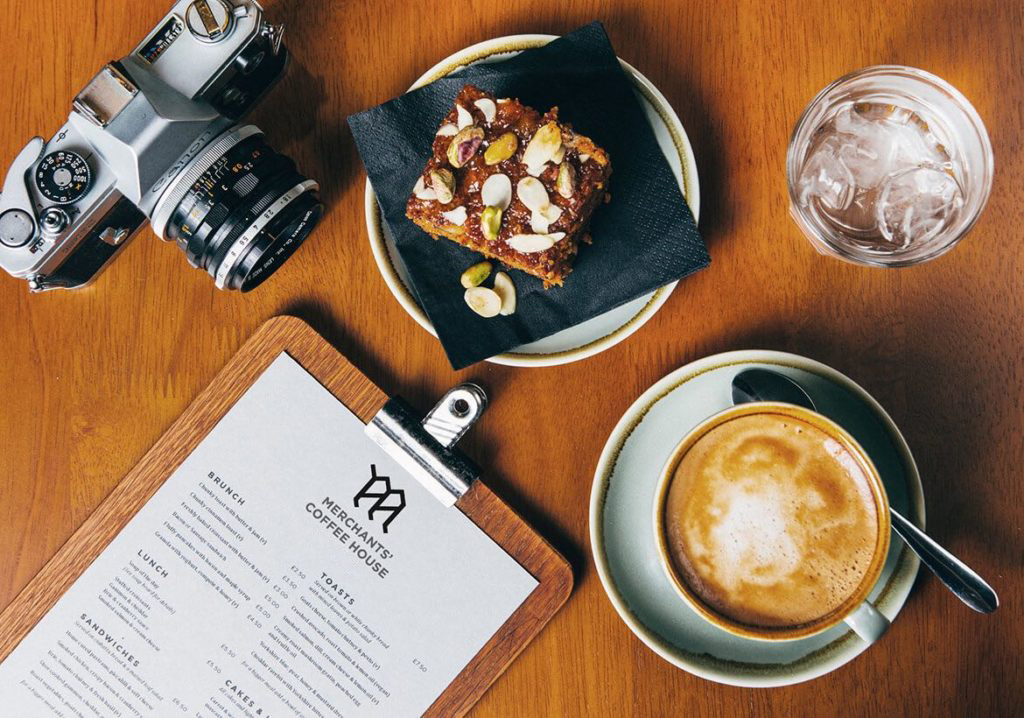 Menu
Lunch
Yorkshire Rarebit: Made with York brewery beer & Henderson's relish on locally baked bread, topped with melted cheese. Served with a salad and a tomato & chilli chutney (v)
Yorkshire Ploughman's Lunch: A popular all year round plate with all your favourites including dry cured ham, pork pie, Yorkshire Creamery red cheese, Yorkshire cheddar cheese, apple, Yorkshire chutney and served with chunky bread and butter.
Homemade Soup of the Day: Served with toasted bread (v)
Soup & Sandwich: Our homemade soup served with half of one of our delicious freshly prepared sandwiches.
Sandwiches:
All served on a white bloomer with salad and crisps
Egg & mayonnaise
Cheddar cheese and Yorkshire chutney
Ham and mustard mayonnaise
Cakes & Snacks
Freshly baked scone with jam and clotted cream
Carrot cake
Lemon drizzle cake
Fruity flapjack
Rocky road crunch bar
Adventurers' shortbread
Cream Tea: Home made fruit scone, jam and clotted cream with your choice of an Americano or Tea. Make it super indulgent with a glass of prosecco! 
Tea and a Traybake: A choice of either our home made fruity flapjack or Rocky road with a tea or an Americano.
Hot Drinks
Americano
Caffe Latte
Cappuccino
Flat White
Mocha
Espresso
Hot Chocolate available with cream and marshmallows
Yorkshire Tea
Speciality Tea (Earl Grey, Peppermint, Lemon & Orange, Blackberry & Raspberry, Chamomile)
Cold Drinks
Sparkling Elderflower
Dandelion & Burdock
Rose Lemonade
Coca Cola / Diet Coke
Sprite
Apple Juice
Orange Juice
Sparkling Water
Still Water
Alcoholic Drinks
Red, White or Rose Wine
Prosecco
York Gin with Yorkshire Tonic
York Gin Roman Fruits with Yorkshire Tonic
York Brewery Terrier
York Brewery Guzzler
The Great Yorkshire Brewery Cider