MERCHANTS' COFFEE HOUSE
Inspiring conversations for 660 years
Meet and enjoy delicious, locally sourced food and drink in the medieval guildhall, home of York's Merchant Adventurers past and present.

Welcome back to the Merchants' Coffee House; open inside the Hall as well as serving in the Hall gardens. 
The Coffee House will continue to be operating a table service after 19th July. Please read our Customer Guidelines below for more information.
We have worked hard on making sure we provide a safe experience for you and for your our staff and have put some measures in place on social distancing, safety and health & hygiene. To read these click our Customer Guidelines.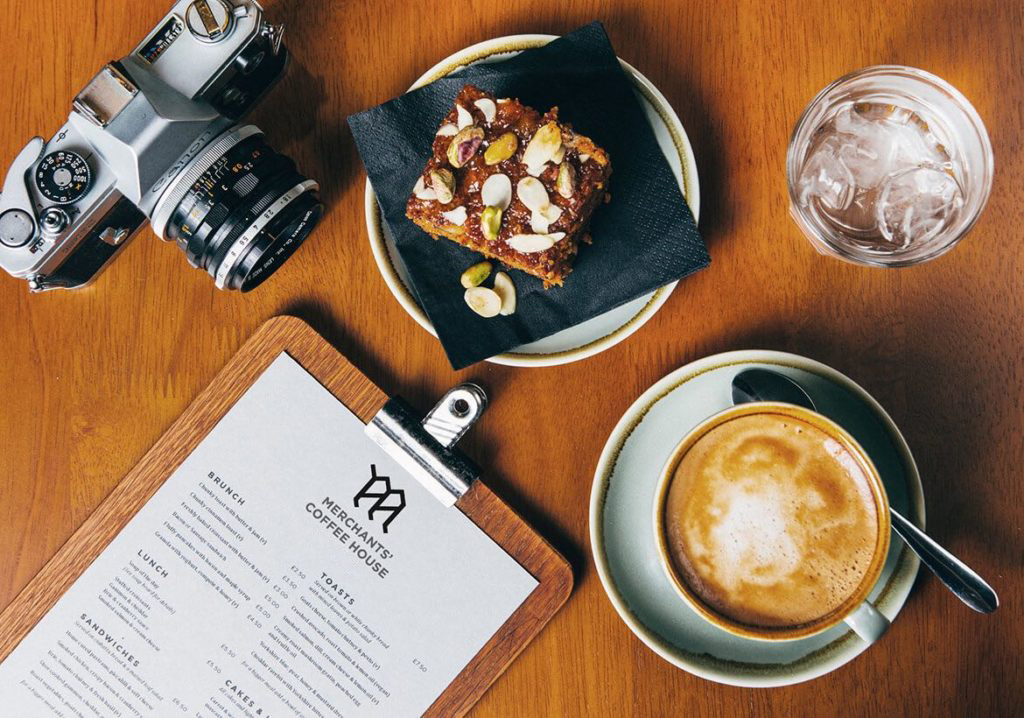 Menu
Brew and a Breakfast Sandwich: Your choice of unsmoked back bacon or sausages in a tasty bread roll. Served with tea or Americano Coffee.
*Served on Saturdays (if the Hall is open all day) and Sundays until midday*
Lunch
Yorkshire Ploughman's Lunch: A popular all year round plate with all your favourites including ham, pork pie, cheese, apple, Yorkshire chutney and served with chunky bread and butter.
Mediterranean Salad: A summery dish of crisp salad, feta cheese, apricot and raisin cous-cous, roasted peppers and olives (v)
Quiche of the Day: Served with salad and coleslaw (v)
Sandwiches:
All served on a white bloomer with salad and crisps
Egg & mayonnaise
Cheddar cheese and Yorkshire chutney
Ham and mustard mayonnaise
Cakes & Snacks
Freshly baked scone with jam and clotted cream
Cheese scone with chutney
Cranberry Teacake
Carrot cake (gf)
Lemon drizzle cake (vg)
Fruity flapjack (vg)
Brownie
Bakewell Tart Slice
Adventurers' shortbread
Cream Tea: Home made fruit scone, jam and clotted cream with your choice of an Americano or Tea.  
Hot Drinks
Americano
Caffe Latte
Cappuccino
Flat White
Mocha
Espresso
Hot Chocolate available with cream and marshmallows
Yorkshire Tea
Speciality Tea (Earl Grey, Peppermint, Lemon & Orange, Blackberry & Raspberry, Chamomile)
Iced Latte or Iced Cappuccino (available with syrups)
Soya or oat milk and decaffeinated tea and coffee are available.
Cold Drinks
Sparkling Elderflower
Dandelion & Burdock
Rose Lemonade
Coca Cola / Diet Coke
Sprite
Apple Juice
Orange Juice
Sparkling Water
Still Water
Alcoholic Drinks
Red, white or rose wine
Prosecco
York Gin & Tonic
York Roman Fruits Gin & Tonic
York Brewery Terrier
Peroni
Great Yorkshire Brewery Lager
Great Yorkshire Brewery Cider