MERCHANTS' COFFEE HOUSE
Inspiring conversations for 660 years
Meet and enjoy delicious, locally sourced food and drink in the medieval guildhall, home of York's Merchant Adventurers past and present.

Open to all, come and meet friends, family and colleagues for delicious food and drink in the inspiring setting of our medieval guildhall, or relax outside in our beautiful walled garden in fine weather.
Enjoy locally roasted coffee, freshly baked sumptuous cakes and snacks inspired by tales from over 660 years of York's trading past.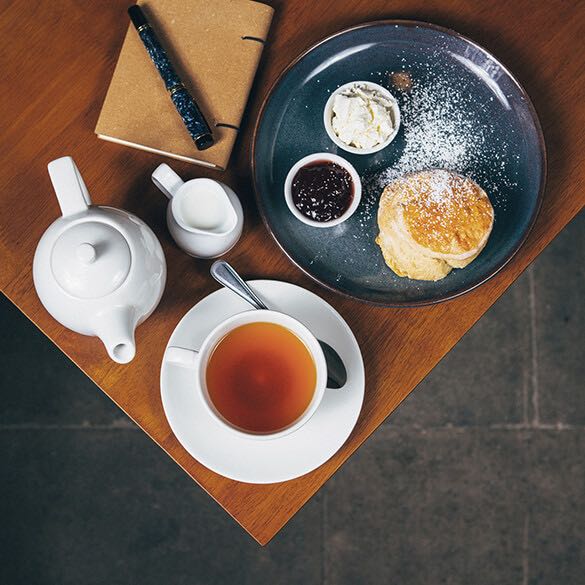 Menu
Lunch
Soup of the Day with crusty bread
Yorkshire Ploughman's Lunch
Smoked Ham & Tomato Quiche with fresh salad 
Yorkshire Rarebit with fresh salad & tomato chutney
Sandwiches:
All served on a white bloomer with salad and crisps
Egg & Mayonnaise
Cheddar Cheese and Yorkshire Chutney
Bacon, Brie & Cranberry
Jacket Potatoes:
Freshly baked and served with salad
Cheddar Cheese
Baked Beans & Cheddar Cheese
Tuna Mayonnaise & Sweetcorn
Snacks
Cheese Scone with chutney
Hand Crafted Sourdough Toast with butter and jam
Earl Grey Tea Cake
Cakes
Yorkshire Fruitcake and Crumbly Cheese
Carrot Cake
Lemon Drizzle Cake
Fruity Flapjack
Chocolate brownie
Adventurers' Shortbread
Freshly Baked Scone with jam and clotted cream
Freshly Baked Fruit Scone with butter
Hot Drinks
Americano
Caffe Latte
Cappuccino
Flat White
Mocha
Espresso
Hot Chocolate available with cream and marshmallows
Chilli Hot Chocolate
Pot of Yorkshire Tea
Pot of Speciality Tea (Earl Grey, Peppermint, Lemon & Orange, Blackberry & Raspberry, Chamomile)
Cold Drinks
Sparkling Elderflower
Dandelion & Burdock
Rose Lemonade
Coca Cola
Sprite
Apple Juice
Orange Juice
Cranberry Juice
Sparkling Water
Still Water
Alcoholic Drinks
Red, White or Rose Wine
Prosecco
York Gin with Tonic
York Gin Roman Fruits with Tonic
York Brewery Guzzler