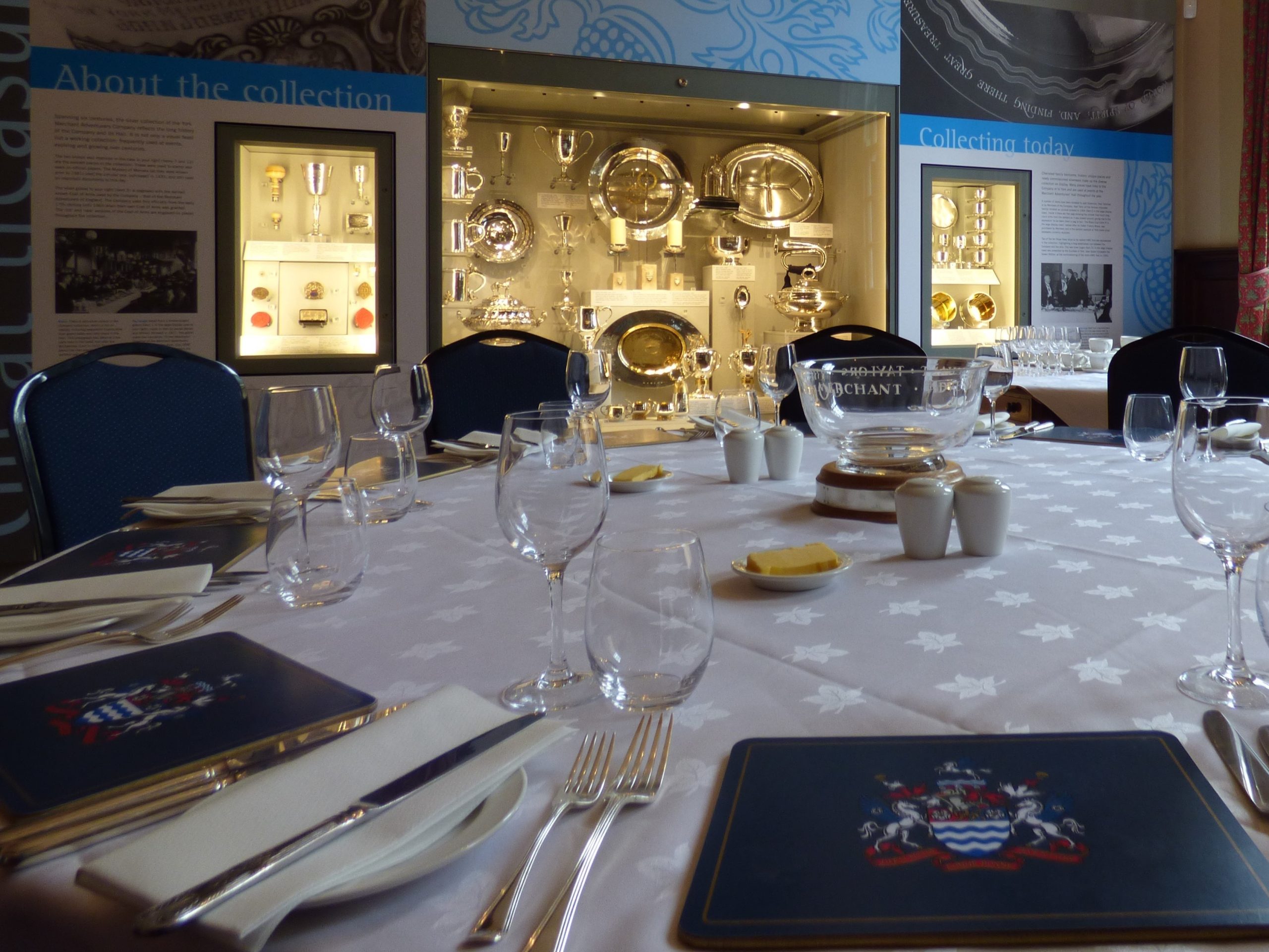 Members' Lunches 
The next series of Governor's lunches to be held in the Committee Room are below:
Tuesday 11th April
Attending: Governor, Judith McNichol, Richard Menage, Ron Cooke, Anthony Robards, Peter Hartley, Martin Marsh, Paul Shepherd and Richard Jackson.
There are 3 spaces available on this lunch.
Wednesday 10th May
Attending: Governor Elect (Mr Joe Horsley), David Terry, Alan Suggett, Christopher Fordy, Sue Palmer, Steve Davis, Martin Hall, Christopher Hall, James Barstow, Andrew Marr, David Barstow and David Rayner.
This lunch is full and a reserve list is in operation.
Thursday 8th June
Attending: Governor Elect (Mr Joe Horsley), Mark Abrahams, Ashley Burgess, Tim Vernon, Maureen Loffill, James Fenwick, Piers Shepherd, Christian Shepherd, Mark Hepworth, Antony Byass and Lindsay Mackinlay.
This lunch is full and a reserve list is in operation.
The timings are 12.15pm for a 12.30pm start with the lunches due to finish no later than 2.15pm. The cost is £22 for two courses, wine, tea and coffee. If you would like to attend, please contact Sadie.
Science Discovery Lecture – Monday 20th March – 6.30pm
This year's Science Discovery Lecture is looking at indoor air pollution. Professor Nicola Carslaw from the University of York's Environment and Geography Department will look into the dirty secret lurking in our homes. 
In developed countries, we spend about 90% of our time indoors, for instance at home, at work, or commuting between the two. It follows that our exposure to air pollutants, whether generated indoors or outdoors, happens mainly in the indoor environment. Despite increased awareness of the importance of maintaining good indoor air quality following the Covid-19 pandemic, most of the air quality legislation still focuses on outdoor air pollution, particularly that caused by traffic and industrial emissions.
This presentation will introduce the audience to the ways in which we are exposed to air pollution indoors, including through activities such as cooking and cleaning, as well as some less obvious routes of exposure. In addition, it will show how indoor air quality is going to become more important in the future. The presentation will highlight methods for reducing our exposure to pollution indoors as well as some to avoid. Finally, it will show how the University of York is leading efforts to understand indoor air pollution and its impacts and to provide solutions for better air quality in our homes.
This event is free to attend. Please contact Rebecca Francis to book your place.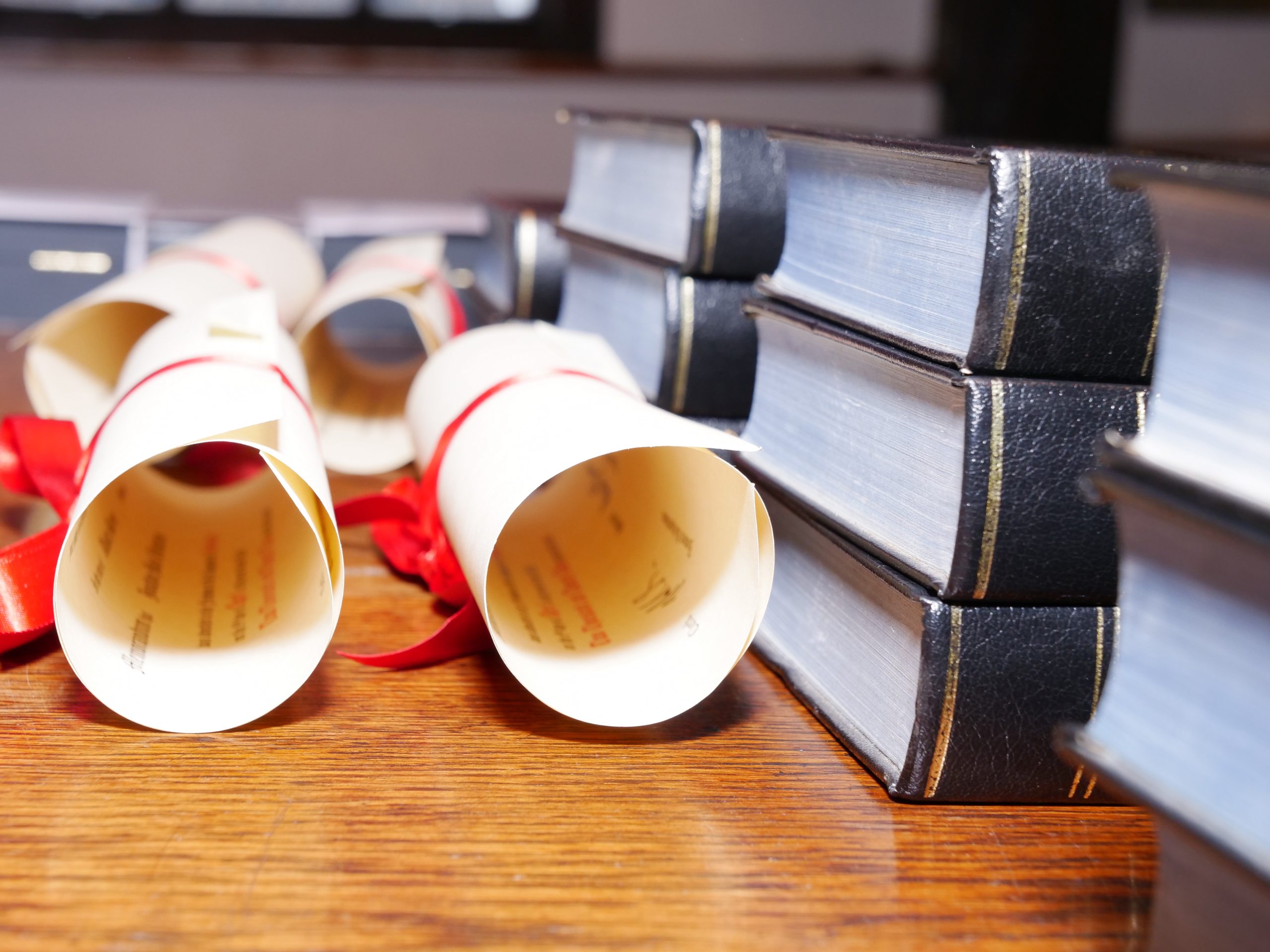 Charter Day Court – Friday 14th April 2023
The Charter Day Court will be held at the Hall on Friday 14th April 2023 at 6.30pm. The Court will begin with a short Service in the Chapel, after which the Governor, Officers and Members will process to the Great Hall for the Court Meeting.
At the end of the Court the Governor (Elect), Mr Joe Horsley, will invite Members to a drinks reception.  Afterwards, Members will dine together in the Undercroft whilst spouses and partners of newly elected members will attend a separate dinner in the Committee Room. If you would like to view the Agenda please click here.
The ticket cost is £70 and dress is formal (Black tie or cocktail dress with decorations and badges of office). If you would like to attend, please contact Sadie by Friday 31st March. We do ask that if you are unable to attend, apologies must be given for this event. 
Tankards Presentation  – Thursday 9th February
In February, nine cadets and service personnel were presented with tankards for their outstanding contribution to their services and communities. The awards, now in their 24th year were originally inaugurated in the 1980's to honour sailors of HMS York but were expanded to honour all three services and cadet forces. This was the first award evening for three years due to COVID-19 restrictions.
Among the recipients this year were four cadets, one from The Yorkshire Sea Cadets, two from the Army Cadet Force and one from the Air Training Corps. Cadet Regimental Sergeant Major Ashanti Mai Holden who, having moved to Britain in 2016 and joined the Cadets in 2017, has 'been a fantastic ambassador for mental health during the Covid-19 pandemic and an amazing role model to all those who meet her'.
Among the adult recipients were Officer Cadet Reece Badger from the Yorkshire University Royal Naval Unit who organised students across multiple cities in support of the Royal British Legion's Poppy Appeal.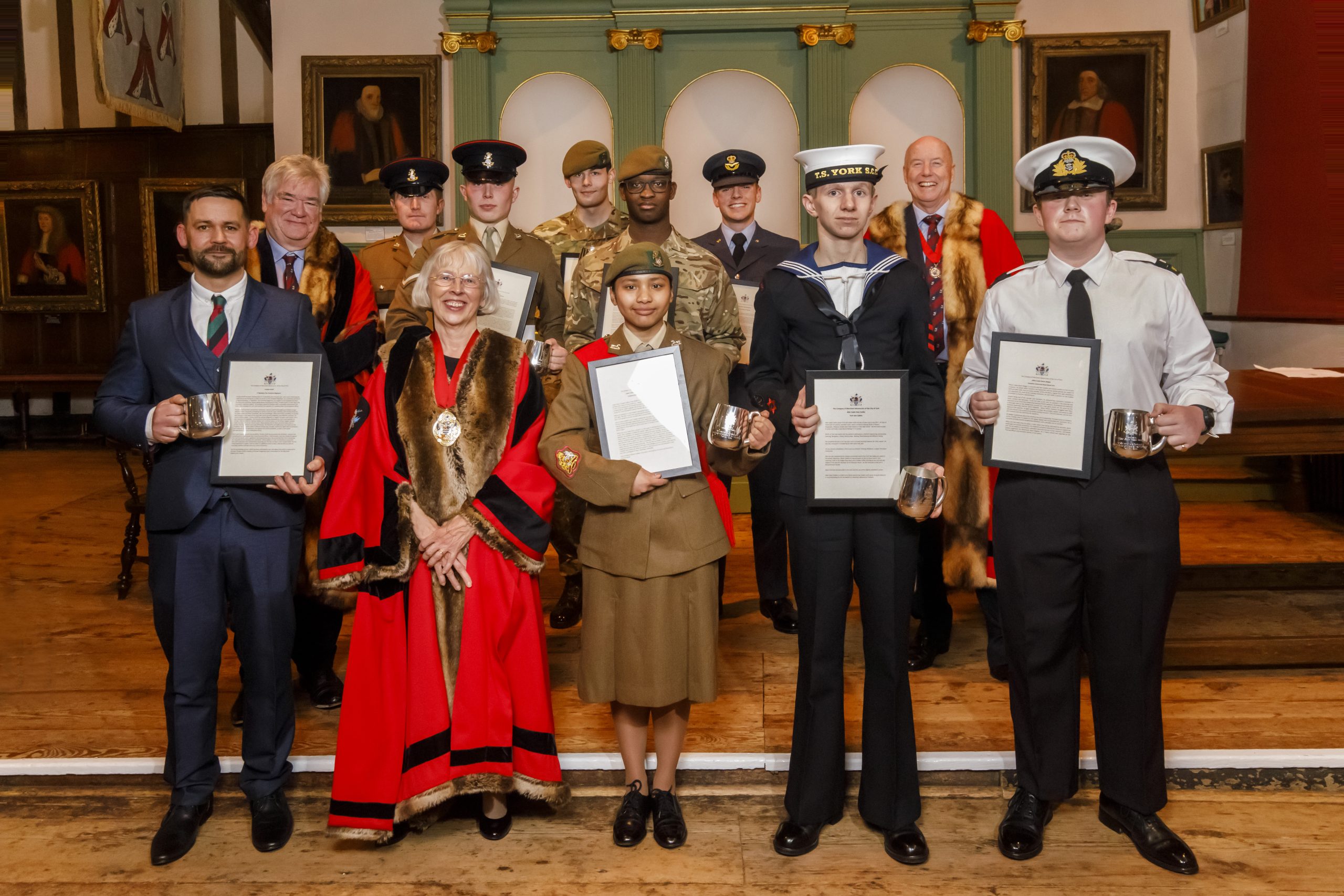 Back row l to r – Corporal Jason Dunn, Cadet Colour Sergeant Major Will Kelly, Acting Pilot Officer George Hodgson representing Acting Pilot Officer James Sanderson, Immediate Past Governor Alastair Barron.
Middle row l to r – Deputy Governor Joe Horsley, Lance Corporal Joshua Olsson, Private Wilfred Muzowa.
Front row l to r – Private Grieff, Governor Delma Tomlin MBE, Cadet Regimental Sergeant Major Ashanti Mai Holden, Able Cadet Alex Exelby, Cadet Officer Reece Badger.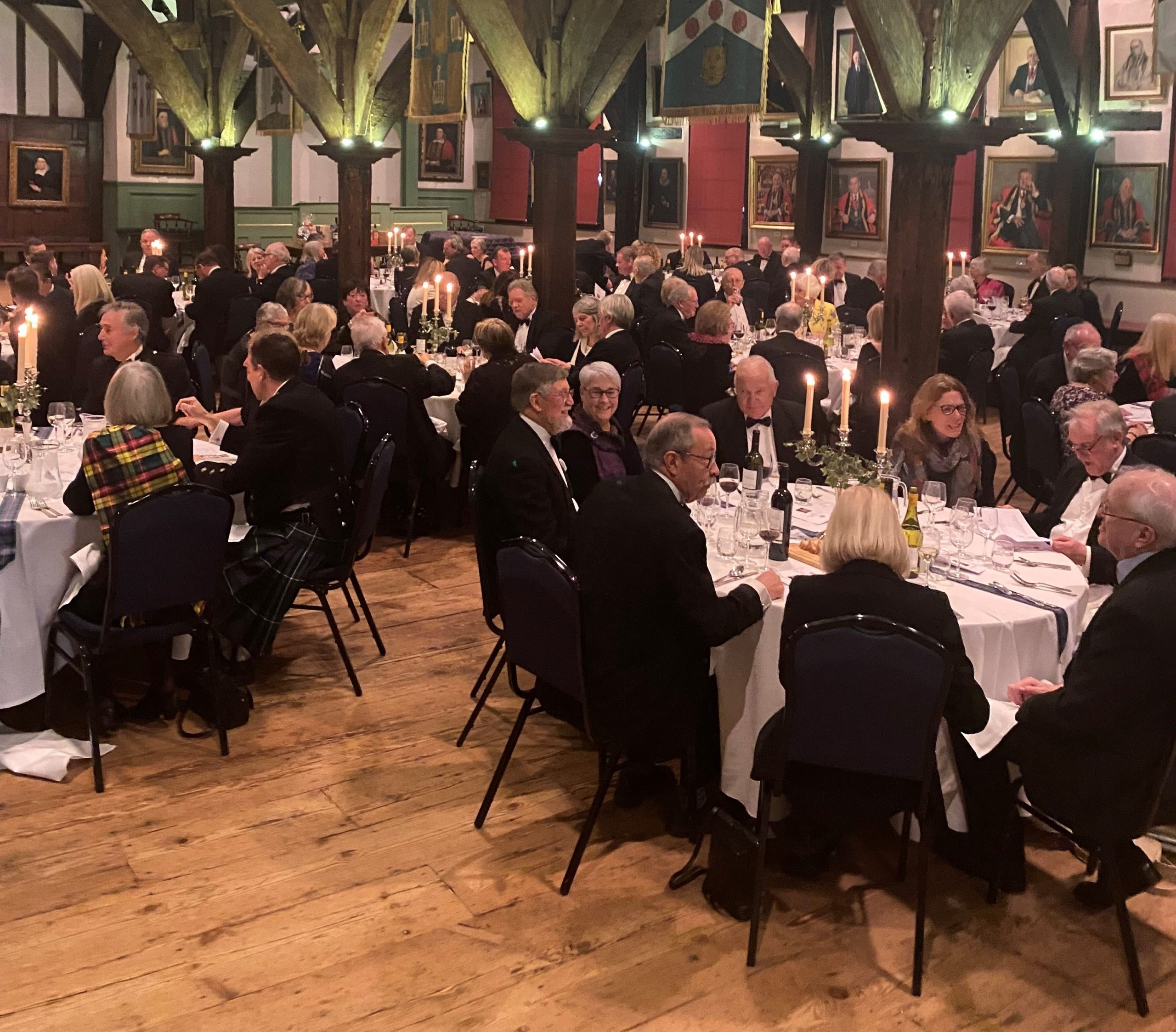 Burns Night Supper – Friday 27th January
On Friday 27th January the Company held a Burns Night Supper, with all proceeds going to our 1988 Trust.
A very good meal including the traditional haggis was served by Bradshaws of York whilst the wine, whisky and good company flowed freely throughout the evening; this also included some enthusiastic dancing led by the York Scottish Country Dancing Society. Well done to all those who were brave enough to have a go!
With all proceeds from the evening going to The 1988 Trust, this will help us launch and deliver two new exciting projects in 2023.
The Merchant Adventurers' Experience gives local children age 8-11 the opportunity to learn about the history of the Hall, the Company & some of the early Merchant Adventurers.  Curriculum specific topics will also be explored, such as The Tudors, Medieval England and Medicine through time.

The Merchant Adventurers & York ISSP Partnership will deliver a six week course to forty year 10 students focusing on the skills needed to succeed in business, enterprise and commerce.  Delivered through the expertise of York ISSP and mentored by Merchant Adventurers, we hope to inspire the Merchant Adventurers of the future.
We thank you for your continued support and would love to see you at upcoming fundraising events including Stuart Paver's talk on Thursday 9th March.